Eagle Web Press' New Brand Identity

Eagle Web Press staff gathered together on June 28th for the unveiling of the brand new identity that marks a new look and new way of doing business for EWP in the print industry!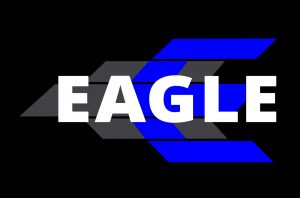 Mike Connor, EWP General Manager and Marty Leopard, Assistant General Manager, shared that EWP is positioning itself in producing top quality print jobs along with excellent customer service.  They both see a bright future for EWP due to the pride and care that all the EWP staff take in getting a job out the door.
Denny Smith, Eagle Newspapers owner and Chairman of the Board, shared words of praise for all the managers and staff at EWP.  He was pleased with the new logo and appreciated that he was honored in this way.
Following remarks by Danny Perry, Operations Manager and Renee Perry, Customer Success and Marketing Manager, the EWP staff received t-shirts, caps or lanyards with the new Eagle Web Press logo.   Danny and Renee were key in designing and creating the new logo, marketing, planning and website update.
All in attendance enjoyed cake featuring the new logo and ice cream to top off the celebration.
Remarks from Danny Perry ~
With heat-set capabilities we have entered a new chapter in Eagle's evolution.Digital disruption in printing requires us to resonate with a new type of print buyer.  To be relevant in today's marketplace, we require a modern brand that tells a modern story.
The logo was designed by Renee Perry and inspired by Denny Smith and reflects his career as a fighter and commercial pilot.The logo is meant to capture the essence of an Eagle in flight and it acknowledges our past while symbolizing our future.  The logo and meaning behind it marks an important milestone in the evolution of EWP.
A significant investment was made in EWP with the purchase of our heat-set press and its capabilities which have brought and will bring new customers and opportunities.Our G7 certification signals our official entry into high-end commercial printing.  The new brand is bringing a new sales focus as we grow in our go-to-market strategy.
Our new website will be launched in early August.Our first monthly educational webinar is tentatively scheduled for mid-September.  Our objectives are to increase outbound sales activity and brand equity.  Improve sales volume and profit margins.  Accelerate revenue growth.  We continue to serve newspaper publishers, magazine/periodical publications, business/retailers, ad agencies and print resellers, government agencies, and independent publishers.