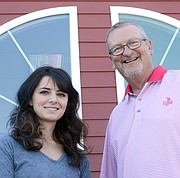 GRANGEVILLE — Idaho County Free Press publisher Andy McNab today announced he will retire Sept. 30, and his job and title will transition to Free Press general manager Sarah Klement starting Oct. 1.
McNab has published the Free Press since 1993. Klement, a Grangeville native, has another bit in common with McNab: both took on newspaper careers at young ages, and both attained the rank of publisher at the age of 25.
"After a forty-plus year career in newspapering, 23 years of it in Grangeville, it's simply time for a change of pace," McNab said. "Sarah is the perfect choice and I'm pleased to have been involved throughout her early career. She and the longstanding staff of The Shopper and Free Press will do well."
"Andy did me the favor of hiring me as an intern when I was 16," Klement said. "I have loved this paper and the people ever since. I am grateful to continue working with an incredible staff, and excited to see what the future brings."
For the Free Press, the change marks an era in which many have already turned to digital outlets to keep up with current events, but also an era in which many locals still rely on the printed newspaper for news. Klement's experience in both digital and print publishing will help the Free Press continue to serve Idaho County as it has since 1886.