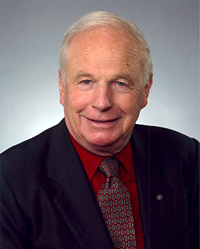 In many ways, just as he preferred, Dick Nafsinger lived like his Hood River friends and neighbors. He married his high school sweetheart, was a Cub Scout pack leader, a Little League coach, owned and operated a business, joined service clubs and was a doting father and grandfather.
But, Nafsinger, who died early Saturday morning, July 23rd, at age 77 from complications of pulmonary fibrosis, also ran in national circles.
He met with two serving presidents, but spoke just as fondly of the time he presided over the Hood River Rotary Club. He was president of the National Newspaper Association, but also found great pleasure in writing a poignant editorial or column in the Hood River News about a city council decision.
Nafsinger sat in on cabinet meetings with former president Jimmy Carter. But equally important were the more regular "cabinet" meetings he participated in at the Hood River Elks Lodge or with his downtown coffee buddies. A common thread throughout Nafsinger's life was community — his community in the Hood River Valley, as well as the greater national newspaper community.
Don Hosford, a longtime friend, said this about Nafsinger, when he was honored in 2001 as a lifetime member of the Oregon Newspaper Publishers Association:  "Although Dick has been a leader in a large and geographically widespread newspaper organization, he has chosen to make Hood River his home," Hosford wrote. "He truly loves his community and cares about its people and its future."
Nafsinger was recognized numerous times for his civic activities enhancing the quality of life in the Hood River Valley, including founding the Hood River Improvement Company and spearheading the hospital foundation's fundraising drive for a kidney dialysis center. He held leadership positions on the school board, hospital foundation and Rotary club, among others.
All the while, Nafsinger built a strong, viable business operation, considered an integral part of the community's economy.There was another aspect that helps explain some of the credit for the respect Nafsinger gained within his profession. He has worked both sides of the editorial and advertising aisles throughout his career. He understood the core values of news and the fundamentals of business and was equally at home interviewing Jimmy Carter or Ronald Reagan, as he was selling an ad to Sheppard's farm implement store.
His ability to bridge and meld the gap between news-side and ad-side was demonstrated in his key role at the Oregon Newspaper Publishers Association during the 1970s when the association's advertising division was formed; and in his election to head both the National Newspaper Association and its advertising arm, American Newspaper Representatives."Dick was a master at publishing a community newspaper," said Tom Lanctot, former News publisher and now Eagle company president. "He knew instinctively the importance of establishing credibility and integrity in the news columns, the editorial page and in advertising. He kept those functions separate, always recognizing the editorial leadership responsibility of a newspaper."
Hard work was a way of life for Nafsinger and it started while he was growing up on a farm in rural western Idaho. His first brush with the media was as a disc jockey for radio station KCID (which spelled backward is Dick, something not lost later in life on his four children). Nafsinger announced play-by-play on the radio for local sporting events. He was a three-sport athlete in high school, co-captain of the Caldwell High School football team and senior class president.
After attending College of Idaho, Nafsinger and his wife, Phyllis, moved to Albany in 1957 when he took a sports writing job at the Democrat-Herald newspaper.  One of his favorite stories was how he put a stop to the under-the-table money the previous sports editor was receiving for writing stories about the fledgling professional wrestling organization that held matches at the Albany Armory. The professionalism and ethics he brought to his job greatly improved the status of the Democrat-Herald in the community.
A short time later, Nafsinger was appointed managing editor by publisher Elmo Smith. Nafsinger moved to Hood River, Oregon, in 1962 at age 28, when he was hired as editor and publisher of the Hood River News, owned by Smith. The News was one of the three original newspapers owned by Eagle Newspapers Inc. (Blue Mountain Eagle Inc. at that time).Under Nafsinger's leadership the News grew from a hot-type operation, averaging 12 to 14 pages a week, to a twice-weekly averaging 50 pages per week with a full-service commercial printing plant.  He became a key participant in the company and a key player in its growth. In 1991 he stepped down as News publisher to devote full-time as president and chief operating officer of Eagle, a position he held from 1978 to 2001. He remained on the Eagle board until his death.
He was responsible for one of the strengths of Eagle's newspapers — a deep sense of community commitment on the part of the businesses themselves and the individual employees.
"Truth had no better friend. He fought for it in print and spoke it, always," said U.S. Congressman Greg Walden of Hood River. "A journalist, yes; but an editor and publisher who understood both sides of the business. Clever, humorous, tough when necessary."
Denny Smith, son of Elmo and present Eagle Newspapers owner, said: "There are countless numbers of men and women, as well as organizations, who have prospered from their associations with Dick. I count myself among the fortunate crowd of beneficiaries, and one of the early ones … going back 50 years during which I looked up to him as a mentor, the brother-I-never-had and a valued business partner."
**********************
A service to honor Dick is planned for 1 p.m. Saturday, July 30th at Hood River Alliance Church.  Contributions in Dick's memory may be made to the American Heart Association or American Lung Association.
(A full obituary can be found on page A6 on the Hood River News. A further tribute to Nafsinger's life will be published in Saturday's News.)
The Hood River News printed a special section in honor of Dick. You can find it here: Dick Nafsinger Tribute.